Melani B Wortinspirationen
Welcome to my author page!
Yours Melani B (Author)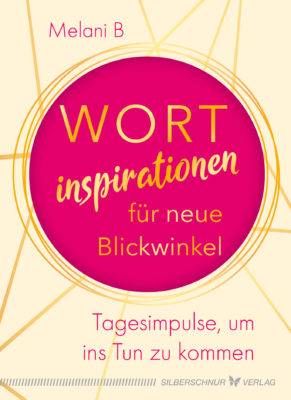 Word inspiration for new perspectives
Daily impulses to get into action
Relive yourself! Let yourself be touched by the colorful variety of word inspirations. By making your own entries under the impulses, you have the wonderful opportunity to gain suggestions, new perspectives and ideas as well as a clear view of your own feelings, recognition and actions. An exciting journey to yourself begins. Because the best time is always now. New perspectives are always worthwhile!
The author, Melani B, about her book:
Some excerpts from my book "Wortinspirationen" (word inspirations) translated into English. Enjoy reading!
*Today.
the best possible succeeds.
*Values are valuable.
*Change is preceded by acceptance.
*Ask.
What does the most wonderful version of myself look like?
*Ask.
There is always a way that takes me further. But where to?
To other shores, to better conditions.
To me.
*My way.
How many detous have I taken?
I didn't see any open doors?
I didn't take really well-intentioned advice?
How many times did I run instead of strolling?
Did I get lost?
Could I not decide at a crossroad of life?
Have I sought a light in the darkness?
Was I exhausted from overcoming the obstacles that blocked the view?
It ist all part of my past. It's gone. A bright beam of light shines……..
Melani B. (author) (copyright  2022)
Contact
If you have any questions, please feel free to contact me, Melani B. (author)...